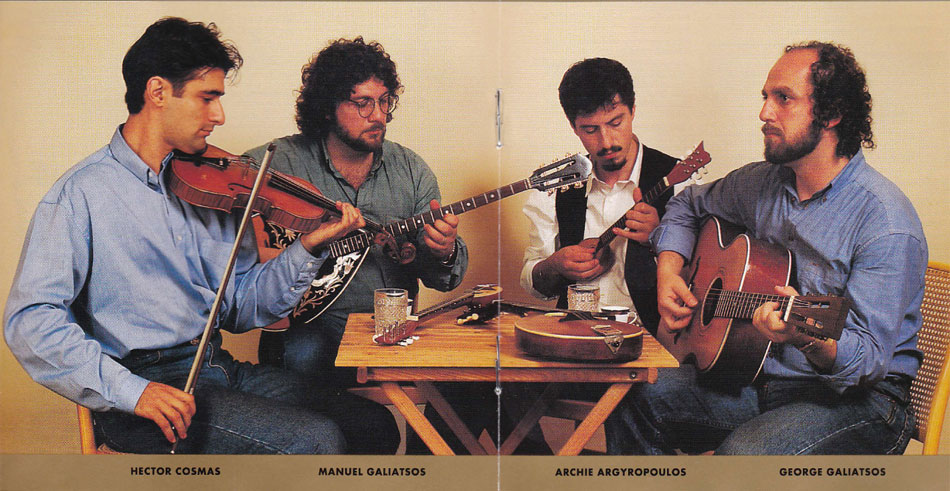 by Stathis Gauntlett
CD Notes to Melisma (1992) by Apodimi Compania
Revivalist bands, known as kombanies, have been a feature of the nostalgic cult of Rebetika in Greece since the mid 1970's. (1) Comprising for the most part, young enthusiastics of both sexes, these bands charcteristically focus their repertoire on historical or little-known recordings of the pre-war era, and seek to reproduce their supposedly authentic pre-commercial style on acoustic traditional instruments. The results have aptly been compared with old '78s without the scratches (2), and are sometimes open to criticism as contrivedly primitive, hypercorrect and unhistorical.
Melbourne's APODIMI COMPANIA has eveolved beyond this typical mould or metropolitan Greek revivalist bands in response to the multicultural influences to which they have been exposed over the last seven years. The band was formed by a group of university students in Melbourne in 1984 out of the Parikiaki Compania which performed at the Tsitsanis memorial concerts of that year, and initially comprosed bouzouki, baglamas, guitar, accordion and a vocalist. For some years thereafter the nucleus of the band comprised the Galiatsos brothers, for whom music is a part-time activity pursued in parallel with occupations ranging from teaching Greek to community arts work. They are avid collectors of old recordings of every kind of traditional Greek music and Manuel Galiatsos manufactures traditional Greek and middle-eastern stringed instruments, in defiance of the conventional wisdom that Greek music in Melbourne revolves primarily round the cosmopolitan bouzouki and its tourist appeal (3). APODIMI COMPANIA frequently use over a dozen folk instruments to perform their more complex arrangements.
Their first engagements included performances at Greek community functions, student concerts and at the Dan O'Connell Hotel, Carlton. In the mid 80's, the band began appearing at multicultural folk festivals all over Australia (National Folk Festival 1986 Melbourne, 1988 Sydney, 1990 Kuranda; Victorian Folk Festival 1987; Port Fairy Folk Festival 1985, 1988, 1990, 1991); South Australian Folk Festival 1989, Goolwa, Brunswick Music Festival 1989, 1990, 1991). In 1988 members of APODIMI COMPANIA accompanied the Greek-Australian composer Costas Tsikaderis to Greece to participate in the Greek Government sponsored Apodimi Festival, and in 1989 the band moved to a regular Sunday night slot at the Retreat Hotel in Brunswick. They have also appeared on SBS TV (Vox Populi 1990) and ABC Radio (Music Deli).
Out of their contact at festivals with musicians from other traditions arose a particularly close co-operation with Celtic musicians, and the Irish bouzouki player Andy Irvine played on the band's 1989 LP Patris, titled after the ship which brought their parents to Australia (4). This album also featured a diverse selection of Greek folksongs, one rebetiko, and a Balkan instrumental, representing a considerable broadening of their repertoire since their first LP Rebetika of 1997 (re-issued in 1990) (5), and their contributions to the composite albums The Music Of Migration (6) and the Music Deli LP (7). For special occasions the band's repertoire has also expanded to include traditional songs, such as setting to music of the poetry of Ritsos, Hikmet and Livaditis, and compsotions of Loizos and Zarhakos.
The present line-up of APODIMI COMPANIA, George and Manuel Galiatsos, Hector Cosmas and Archie Argyropoulos is shaped by a confluence of multicultural music forces which appears unique, but probably has parallels all over the Greek diaspora, particularl in the USA, where Greek folksongs and Rebetika were first recorded in the same studios as negro Blues in the 1920s, often on similar instruments.
1. S. Gauntlet, Folklore and Populism: the greening of the Greek blues Proceedings of the Fourth National Folkore Conference Canberra (1991) 85-91
2. G. Holst Warhaft The Rebetika Revival Aegean Review Fall/Winter 1988 10
3. G. Michelakakis, On Greek Song in Melbourne (in Greek) Chroniko 3, 1980-81 39
4. Brunswick City Council Recordings No 010 1989
5. Brunswick City Council Recordings No 03 1987 & 1990
6. Brunswick City Council Recordings No 01 1986
7. Larrakin Records No 227 1988