Product Description
Melisma (1992): Apodimi Compania
Melisma is Apodimi Compania's third recording on Brunswick Recordings and their first on CD. It contains seventy five minutes of beautifully arranged music using over a dozen folk instruments. As well as the Traditional pieces which originate from all over mainland Greece, the islands and a selection of Rebetika, the band have composed two of the tunes and include a set Old Brunswick Town especially written for them by Andy Irvine, virtuoso Irish singer, composer and bouzouki player.
George and Manolis Galiatsos, Hector Cosmas and Archie Argyropoulos, the line-up so famous for it's Retreat Hotel gigs, have recorded a world class album that has since achieved iconic status.  The band is also joined by Michael Melambiotis, a fine singer and Cretan lyra player and the album was produced by the renowned musician Tony Hargreaves.
Melisma has been out of print for a long time and this is a unique opportunity to own a copy ….. only on Second Line Music … so order your copy now !!!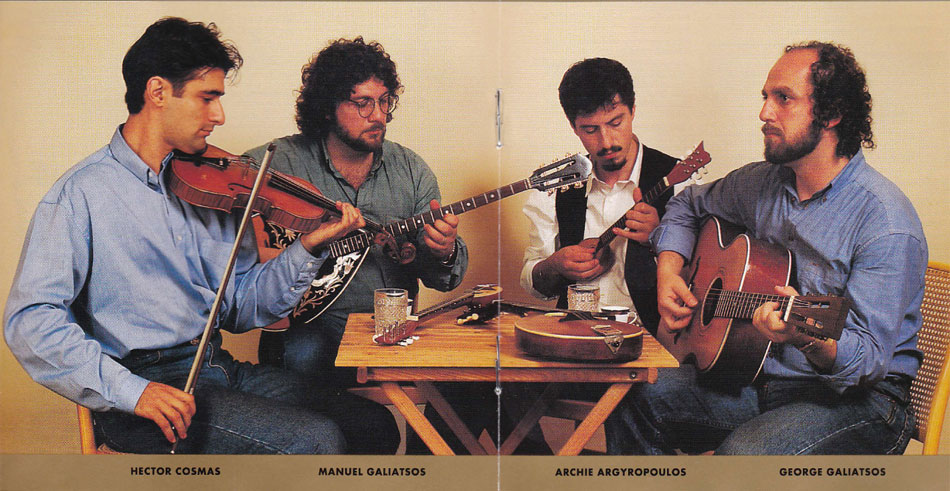 MELISMA (1992)
TRACK 1: I WALKED ABROAD (traditional)
A traditional song from the region of Thrace, in northern Greece. We learnt this song from the singing and playing of Panayiotis Barberiou and his group from Athens, Greece
TRACK 2: ANDY IRVINE'S/OLD BRUNSWICK TOWN (Andy Irvine)
Two new tunes written for us by our old friend Andy Irvine. We are very grateful to him and we hope that we do them justice.
TRACK 3: I'LL JUMP OFF THE BALCONY (traditional)
A traditional love song from the northern Greek region of Macedonia which we learnt from the unaccompanied singing of Domna Samiou, one of the finest interpreters of traditional Greek song.
TRACK 4: DELIANA TWILIGHT (George Galiatsos)
This tune is a slow syrtos, written by George, in the traditional style. It is dedicated to the loving memory of Stelios Bertsoulakis of Deliana-Kisamou in Hania, Crete, who died tragically a few years ago.
TRACK 5: NEW KASTELIANOS SYRTOS (Kostas Moundakis)
A song composed by Kostas Moundakis, perhaps the finest exponent of the Cretan lyra in the post-war era. He died in early 1991 and it is to his memory that we dedicate this song. Michael Melambiotis features with his fine singing and playing.
TRACK 6: MOUSTAMBEIKO (traditional)
A traditional tune from Naousa in the norhern Greek region of Macedonia, known to have been performed during the festive season of the local 'carnival' which dates back to the Byzantine era and which took place during the Christmas season. We first heard this tune from a recording of the Psathas brothers on zourna and daouli (Greek reed instrument and bass drum). We have arranged the tune to feature stringed instruments such as the bouzouki, the mandocello, the lute and the violin.
TRACK 7: DAYBREAK SYRTOS (Stratis Galathianakis)
A slow syrtos from the region of Hania, in western Crete, by Stratis Galathianakis, one of the greatest exponents of the Haniotiko style of fiddle playing.
TRACK 8: THRACIAN DANCE (traditional)
A traditional tune from Thrace, in northern Greece, for which we have no title. We believe it is a singathistos syrtos.
TRACK 9: ARIADNE'S DANCE (George and Manuel Galiatsos)
Written by George and Manuel, this tune draws from the tradition of Cretan music. Hector had a hand in it somewhere. It is a slow then fast syrtos, and is dedicated to a five month old baby. little Ariadne.
TRACK 10: UNDER THE TOMATO VINES (traditional)
A traditional rebetiko song, first recorded in the USA around 1930, which featured Manolis Karapiperis on vocals and bouzouki. It is an aptaliko zeimbekiko.
TRACK 11: THE HARE (traditional)
A traditional song first recorded in 1926 in the USA by Marika Papagika, one of the greatest female singers of all time. The melody of this song was widely used in Smyrna and other Greek-populated cities of Asia Minor. The great Smyrnaic composer Vangelis Papazoglou also used this melody in his song 'Tsakpina Mavromata', recorded in the early 1930's. Our arrangement combines elements of both versions.
TRACK 12: FALSE WORLD (Markos  Vamvakaris)
A song by Markos  Vamvakaris, considered to be one of the most prolific songwriters and performers of Rebetika. The song is from his post-war period of songwriting and reflects his feelings of the time, portraying a futile and vain world. We dedicate this song to the memory of Thimios Stathoulououlos.
TRACK 13: WHEN I GO INTO THE HASH-DEN (Anestis Delias)
A song by Anestis Delias, or Artemis, as he was nicknamed by George Batis. It refers to the lighter side of smoking and drinking. Although not so apparant in this tune, Delias' reference to hashish smoking was often a negative one,revealing the tragic nature of this practice.
TRACK 14: THE DOCTOR (traditional)
A traditional song recorded widely in the USA during the first decades of this century by such performers as Marika Papagika, George Katsaros, Mrs Koula and others. It is a song that was widely sung in the neighbourhoods of Smyrna, Asia Minor.
TRACK 15: IT'S YOUR FAULT (Stellakis Perpiniadis and Kostas Kanoulas)
A song with lyrics by Kostas Kanoulas, a fine santouri player, and music by Stellakis Perpiniadis, the most versatile of all Greek singers, who also composed many songs. It is an aptaliko zeimbekiko.
TRACK 16: I DON'T LOVE YOU (Kostas Karipis)
A song by Kostas Karipis, originally from Smyrna, Asia Minor. A wonderful singer and guitarist, Karipis composed songs in both the Smyrnaic and Piraeus style of Rebetika. This is a slow hasaposerviko.
TRACK 17: THE LASS FROM TZITZIFEIS (anonymous)
A song learnt from a 1935 recording by Anestis Delias and Stratos Payioumitzis. There is speculation about the origin of this song. It is believed that the melody is traditional and perhaps the lyrics belong to Anestis Delias. Tzitzifeis is a suburb of Athens.
TRACK 18: IN MARIGO'S HASH-DEN (Spiros Peristeris)
A song by the multi-instrumentalist and composer, Spiros Peristeris. There are a few versions of this song recorded in the early 1930's. One is from Greece, by the singer Yiorgos Papasideris, another by Peristeris himself in the USA in the mid 1930s and there is also an instrumental version of the song played on bouzouki by the renowned bouzouki player in the USA, Ioannis Halikias (Jack Gregory) with Sophocles Mikelides on guitar. Our arrangement combines elements of all three recordings.
APODIMI COMPANIA
Manuel Galiatsos: Ud, Saz, Bouzouki, Mando-Cello, Whistle, Banjo, Mandolin, Tzoura and Tzoura-Saz
Hector Cosmas: Violin, Baglama, Bowed Tambour and Mandolin (track 16)
George Galiatsos: Guitar (6 and 12 string), Laouto (Cretan lute) and Vocals
Archie Argyropoulos: Toubeleki, Bedir, Baglama, Cymbals and Vocals
Special Guests:
Michael Melambiotis: Cretan Lyra and Vocals (track 5)
Tony Hargreaves: Accordion and Keyboards (track 2)