Product Description
Love's Follies, is the Apodimi Compania's 4th album, and it was released in 2003 after a near 10 year break from recording. The band's previous releases were recorded on Brunswick Recordings in Melbourne and this was their first recording in Greece.
Apodimi has proved to be the most durable and exciting in the Greek Diaspora. This release features the core members of the band, Hector Cosmas, siblings George and Manoli Galiatsos and new member Marios Papadeas. This line up presents contemporary settings of traditional songs and tunes from the Greek islands and the Asia Minor coast arranged for fiddle, oud, santouri plus the unusual addition of the four string banjo. This instrumentation emulates that which featured in many of the original recordings of this repertoire in the early years of the last century.
Apodimi Compania as always, combine top class musicianship with an obvious love and passion for their material, namely Rebetika and Greek Folk.
Love's Follies has been out of print for quite some time now and this is a unique opportunity to purchase one of the band's finest albums…so order you copy on Second Line Music Shop…now !!!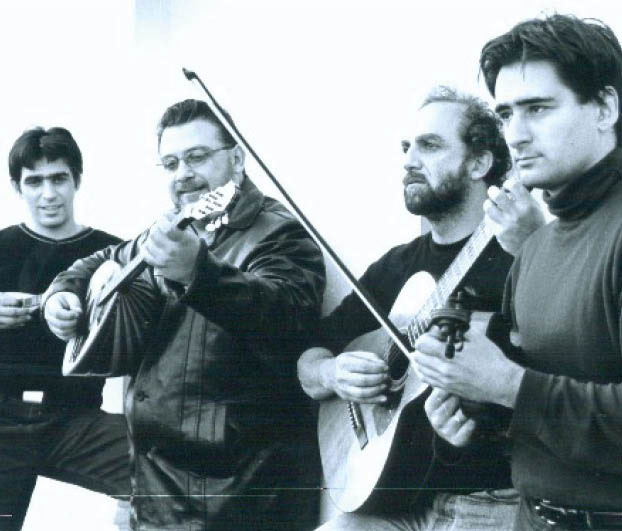 LOVE'S FOLLIES (2003)
TRACK 1: WHERE CAN I FIND A WOMAN LIKE YOU (Mazomenos: Kostas Anatolitis – Andonis Diamantidis)
A song in the Hasaposerviko rhythm (2/4) by the great singer Andonis Diamantis or Dalgas as he was better known. It was first recorded in 1939. It is followed by a traditional tune from Mytilene.
TRACK 2: THE DERVISH'S COMPLAINT (Stellakis Perpiniadis)
An anti-drug song in the Aptaliko Zeibekiko rhythm (9/8). It is rumoured that it has been written by the Smyrniot composer Vangelis Papazoglou.
TRACK 3: ARMENITSA (Kostas Karipis)
A slow Tsifteteli (4/4). One of the lesser known songs of the great singer and composer Kostas Karipis.
TRACK 4: TATAVLIANOS (traditional)
Traditional instrumental arranged by Apodimi Compania.
TRACK 5: THE BOUZOUKÁKI (Kostas Skarvelis)
A song from the prolific rebetika composer and guitarist Kostas Skarvelis who, though illiterate, is said to have sometimes stopped passers-by to jot down lyrics that came to him.
TRACK 6: SWEET EYES (Dimitris Baroussis)
A song by a lesser-known composer Dimitris Baroussis. He was a great fiddle and kanoon player who died during the German occupation.
TRACK  7: ON A MERCHANT SHIP (Dimitris Semsis)
A song of emigration written by the acknowledged master fiddler Dimitris Semsis, in the rhythm of Kalamatianos (7/8).
TRACK 8: AIDINIKOS (traditional)
An Aptaliko Zeibekiko (9/8) named after Aidini, a city in Asia Minor.
TRACK 9: GOING FOR THE WALLET (Emmanuel Chrisafakis)
A Camilieriko Zeibekiko (9/8) by the Smyrmiot composer and santouri player Manolis Chrisfakis
TRACK 10: KAROTSÉRIS (traditional)
Another traditional instrumental arranged by Apodimi Compania. This tune is learned from an early 20th century Amercian recording. It is a variation of the Karotseris song, which refers to cart drivers in Constantinople.
TRACK 11: THE TWO WIDOWS (Kostas Karipis)
A satirical song by Kostas Karipis, who also played guitar on hundreds of recordings.
TRACK 12: I'M CHARMED BY YOUR LOCKS (Emmanuel Chrisafakis)
A Hasaposerviko (2/4) which celebrates curly locks. A style very popular in the inter-war years.
TRACK 13: AZIZIÉS (traditional)
Another traditional instrumental arranged by Apodimi Compania. A Syrtos (4/4) widely known across the Aegean region.
TRACK 14: SOCIETY, YOU TRAITOR (Panagiotis Toundas)
A song by one of the greatest Greek composers and arrangers
TRACK 15: FLIRTATIOUS WIDOW (Panagiotis Toundas)
A Camilieriko Zeibekiko (9/8) first recorded in 1934. This song is a product of the huge problem caused when thousands of young wives were left widowed by the wars of the period.
TRACK 16: I'VE WITHERED, MY LITTLE ONE (Ioannis Bernidakis – Dimitris Semsis)
A rare collaboration between traditional Cretan and Rebetika composers. A Syrtos (4/4) co-written by Semsis and Cretan composer and lute player Ioannis Bernidakis.
TRACK 17: MURDERESS (Panagiotis Toundas)
A Slow (7/8) written by Toundas, who was also a fine mandolin player and director of Columbia Records in Greece.
APODIMI COMPANIA
George Galiatsos: Guitar, Lute and Vocals
Marios Papadeas: Santouri, Piano and Vocals
Manolis Galiatsos: Banjo, Saz, Lafta (Asia Minor Lute) and Tsimbus
Hector Cosmas: Violin and Baglamas
Guest Musician: Manousos Klapakis: Rek, Bedir, Finger-cymbals, Spoons and Shells