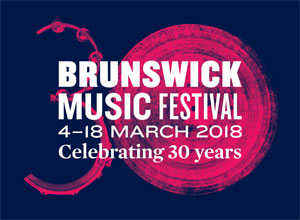 2018 BRUNSWICK MUSIC FESTIVAL
Moreland City Council's Brunswick Music Festival returns in March, with Melbourne's iconic fortnight-long party program celebrating 30 years of fostering live music and local talent.
CLICK HERE for the full program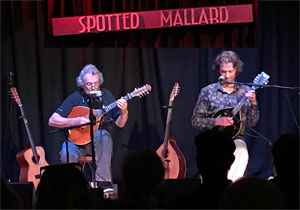 ANDY IRVINE & LUKE PLUMB
RESERVED SEATING: $35 (+b/f)
A RESERVED SEAT is highly recommended for this show!

Here's how it works:
1. Purchase your Reserved Seat tickets using The Spotted Mallard online ticketing system.





2. Then email The Spotted Mallard on reservations@spottedmallard.com and let them know what time you will arrive, where you would like to sit, and how many will be sitting at your table.

TABLE RESERVATIONS
Gather friends and family and make up a table with reserved seating. Table bookings typically range in size from 2 people right through to 10-12. Once you have purchased your Reserved Seat tickets, simply email the Spotted Mallard to make your table reservation.

Book early for the best seats!
ANDY IRVINE & LUKE PLUMB
GENERAL ADMISSION: $30 (+b/f)
General Admission ticket holders cannot reserve their seating or reserve a table. However, any seating that remains after all Reserved Seating has been allocated, can be taken by General Admission ticket holders on a first-come first-serve basis on the night.
ANDY IRVINE & LUKE PLUMB
MEALS BEFORE THE SHOW
The Spotted Mallard is a brilliant place to have a meal. Whether you have a Reserved Seat or General Admission Ticket, you can order a meal before the show from The Spotted Mallard dinner menu.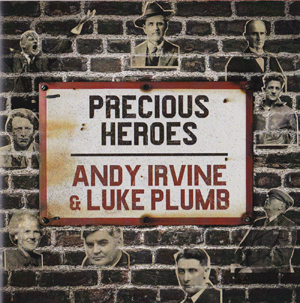 PRECIOUS HEROES
Released in December 2016 at 'The Woodford folk Festival', the album features original and traditional compositions and songs, and is already being heralded as one of the most exciting and iconic folk releases of recent times. Undoubtedly some of Irvine's finest work, this masterpiece has been beautifully embellished by Luke Plumb, and while the sound is very contemporary, the arrangements are reminiscent of the sounds of 70s folk revival; reminding the listener of artists such as Paul Brady, Nic Jones and Planxty themselves.
ANDY IRVINE & LUKE PLUMB
WITH DAN BOURKE & ANTHONY O'NEILL


2018 LOUIS McMANUS MEMORIAL CONCERT
PRESENTED AS A PART OF THE 2018 BRUNSWICK MUSIC FESTIVAL

Thursday March 15, 2018, 8.00pm
The Spotted Mallard, 314 Sydney Rd, Brunswick.

ONLY MELBOURNE SHOW!
Pre-Sale: Reserved Seats $35 (+b/f)
Pre-sale: General Admission $30 (+b/f)
On the night: $35 at the door
Doors and Dinner: 6.00pm - Showtime: 8.00pm

**********************************

The collaboration between the legendary Andy Irvine (Sweeney's Men/Patrick Street/Planxy/Mozaik) and mandolin maestro Luke Plumb (Shooglenifty) is one of the most thrilling in recent times, resulting in the wonderful 2017 studio album Precious Heroes.

"We were moved to make an album, which in part, recognised some of the great, largely unknown, men and women who shaped working class and cultural roots. Through the hardship, sadness, adversity and tragedy, triumphant stories remain. We share the history and continue to share the hope. This album is dedicated to those precious heroes". Andy Irvine and Luke Plumb

Andy has been "one of the towering talents on the international folk scene" (Sydney Morning Herald) for more than 40 years, while Luke has established a reputation as a driving force in acoustic music on the global stage.

This show is the 2018 Louis McManus Memorial Concert. No one captured the 'heart and soul' of Brunswick Music Festival more than Louis McManus, who passed away in 2004 and this concert honours his legacy.

These two masters of their craft will be appearing at The Spotted Mallard as a part of the 2018 Brunswick Music Festival, in their only Melbourne show.

DAN BOURKE AND ANTHONY O'NEILL
I'm super-excited to announce that our great friends Dan Bourke and Anthony O'Neill will be opening the show for Andy Irvine & Luke Plumb for the Brunswick Music Festival at The Spotted Mallard on Thursday March 15!

Dan Bourke (fiddle, vocals) and Anthony O'Neill (mandolin, fiddle, guitar, vocals) are two of traditional Irish music's finest, and it is a rare treat to hear them in concert together as a duo. It is fitting that they should come together for this show, which is the 2018 Louis McManus Memorial Concert. Dan, Anthony and Louis were life long friends and music partners - of course they all played together in The Bushwackers for so many years, and then right through the magic years of The Purple Dentists. This will be one for the ages!

This will be a huge night. Make sure you book early for the best reserved seats..... all roads lead to The Spotted Mallard!



**********************************


ANDY IRVINE
"Andy is one of the most creative and talented people it has ever been my privilege to work with. Great company, superb singer, genius of a musician, truly original songwriter and an inspiration to all of us - what more could anyone ask?" Dick Gaughan

Andy Irvine's solo stage show is a musical travelogue through time and space. His right hand dexterity on bouzouki was nothing short of amazing. Frets Magazine

Andy Irvine is Ireland's Woody Guthrie, with a philosopher's ear and a prophet's passionate voice. He is also a stunning singer and instrumentalist who weaves melody and texture, harmony and rhythm, into a rich tapestry of present and past. Si Kahn

Andy Irvine is a true legend of the Irish music scene; when barely twenty one and already an ardent follower of Woody Guthrie, Andy arrived in Dublin from London in the early sixties to immerse himself in a whole new world of folk and traditional music Dublin style. By the end of the decade he had made an album with his first serious band Sweeney's Men, travelled in Bulgaria and Romania and on returning to Dublin with three other like-minded young musicians formed the legendary band Planxty.

The band's first album was released in 1972 and is widely acknowledged one of the most important albums ever released in the genre. Planxty went on to record another six brilliant albums, the individual members on to form numerous other well-known bands, and in Andy's case Patrick Street and Mozaik.

LUKE PLUMB
Through his work with Shooglenifty, Peter Daffy and as a Solo performer, Luke Plumb has established a reputation as a driving force in acoustic music on the global stage. With eleven albums and numerous other guest appearances under his belt, Luke has cemented his standing in the world of mandolin players. But he is equally at home playing melody on the banjo or accompanying on the bouzouki and guitar. His skills as a session musician have seen Luke playing with musicians from many genres around the world!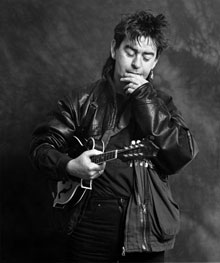 LOUIS McMANUS MEMORIAL CONCERT
2018 marks the 30th anniversary of the Brunswick Music Festival, and over those 30 years, no-one has captured 'the heart and soul' of the Festival more than Louis McManus. Louis lived in Brunswick for more than ten years and this was his 'home-town' festival. It was fitting then, that he played such a major role in the 1st Brunswick Music Festival way back in 1989.

Louis' first appearance at the Brunswick Music Festival Festival was on Saturday April 1, 1989, in the Guitar Concert at the Brunswick Town Hall, alongside Martin Carthy, Tommy and Phil Emmanuel, Steve Housden, Tony O'Neill and Steve Groves.

The next day, Louis appeared in an afternoon concert with the great Martin Carthy in the intimacy of the Brunswick Mechanics Insititute. In fact, it was the Brunswick Music Festival that brought Louis and Martin together in a hastily arranged short-tour that resulted in a life-long friendship.

Later that night, Louis took the 1st Brunswick Music Festival out in style with his mates in the Celtic spectacular at the legendary Retreat Hotel. The Festival finished with George Butrumlis, Martin Carthy, Dan Bourke, Tony O'Neill, Dobe Newton, Steve Groves, Jan Wositzky and Phil Emmanuel joining Louis on stage under the banner of The Purple Dentists: a night that will live forever for those lucky enough to be at the Retreat Hotel.

Louis would go on to play at the Brunswick Music Festival with either the The Purple Dentists or the Leisure Twins each and every year until illness forced him from the stage.

The Annual Louis McManus Memorial Concert has been presented as a part of the Brunswick Music Festival every year since 2005 and it is a wonderful opportunity to come together and celebrate the music and the friendship that we all shared with Louis.

Louis McManus (1956 - 2004)

**********************************

THE SPOTTED MALLARD IS THE PLACE TO BE!