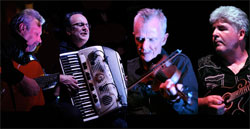 THE PURPLE DENTISTS
They're back!
Thursday November 29, 8.00pm
The Spotted Mallard
314 Sydney Rd, Brunswick

Reserved Seats $20 (+b/f)
General Admission $15 (+b/f)
On the night: $25 at the door
Doors and Dinner: 6.00pm
Showtime: 8.00pm



RESERVED SEATING: GET THE BEST SEATS AT THE BEST TABLES - $20 (+b/f)
A RESERVED SEAT is highly recommended for this show! Book early to get the best seats!

Reserved Seating is all at tables, and it's a TWO STEP process.

STEP 1. Purchase your Reserved Seat using The Spotted Mallard online ticketing system.

STEP 2. Then email The Spotted Mallard on reservations@spottedmallard.com and make your table reservation. Your reserved seating tickets need to be attached to a table with your name on it - so don't forget to email!

TABLE RESERVATIONS
Table bookings typically range in size from 2 people right through to 10-12. Once you have purchased your Reserved Seat tickets, simply email the Spotted Mallard to make your table reservation.

Book early for the best tables!
GENERAL ADMISSION: Pre-Sale $15 (+b/f) or at the door $25
General Admission ticket holders cannot reserve their seating or reserve a table. However, any seating that remains after all Reserved Seating has been allocated, can be taken by General Admission ticket holders on a first-come first-serve basis on the night.
DINNER AT THE SPOTTED MALLARD
The Spotted Mallard is a brilliant place to have a meal. Whether you have a Reserved Seat or General Admission Ticket, you can order a meal before the show from our dinner menu.


THE PURPLE DENTISTS
AT THE SPOTTED MALLARD

They're back! The Purple Dentists return to The Spotted Mallard for their first show since 2015 and we're excited!

Each Purple Dentist show is a gem to be treasured, a musical tightrope which is navigated with breath-taking bravado as the diverse talents of Dan Bourke, Anthony O'Neill, George Butrumlis and Steve Groves come together on stage!

The music of the Dentists is based on the Irish tradition but also incorporates elements of Zydeco, country swing, free improvisation and contemporary compositions.

The Purple Dentists formed in Brunswick back in the 1980's and went on to perform at the first two Brunswick Music Festivals in 1989 and 1990. They reformed in 2013 for an appearance at the 25th Anniversary Brunswick Music Festival, and went on to hold court at The Spotted Mallard from 2013-2015, performing a number of legendary shows at this much-loved Sydney Rd venue.

.... and now they're back and this will be one of the shows of the year!

Dan Bourke: fiddle, vocals | Anthony O'Neill: fiddle, mandolin

George Butrumlis: piano accordion | Steve Groves: guitar, vocals
_______________________________________
THE PURPLE DENTISTS
The Purple Dentists, as the name might suggest, were something of a musician's fantasy – a loosely defined coterie of pals and musical cronies who played anything and everything to enthusiastic punters. This happened in Brunswick during the 1980s at the Retreat hotel. At the time the Retreat was a marvellous Greek pub with no light, no ventilation and the clandestine air of a mob lair. We played there almost exclusively in a time when heavy clouds of cigarette smoke, even in the pub kitchen, were a mandatory adjunct to the music. The repertoire of the band was stylistically diverse, from jigs and reels to hungarian dances, original songs to country standards. It was based on seat-of-the-pants improvisation with a modicum of rehearsal. In truth, the playing sometimes scaled great heights and we all enjoyed walking our musical tightrope.
Dan Bourke: The Purple Dentists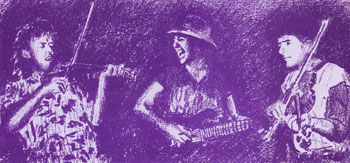 The original Purple Dentists
Dan Bourke, Louis McManus, Anthony O'Neill
Illustration by Peter Keown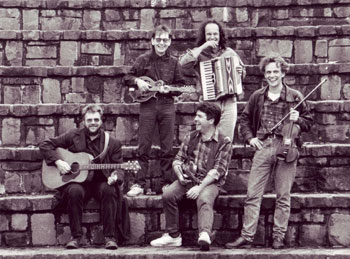 The Purple Dentists circa 1989:
Steve Groves, Louis McManus, George Butrumlis, Anthony O'Neill, Dan Bourke
Photo by Liz Reed